A geografia imaginativa no discurso extrativista no Peru
Resumo
A vertiginosa expansão das atividades extrativas no Peru, a partir do final do milênio passado, propiciou não apenas o crescimento econômico, mas também conflitos socioecológicos, que dizem respeito a mais do que distribuição de bens materiais, eles são pontos candentes no processo de negociação da identidade nacional e do pertencimento à nação. No Peru, impôs-se uma conceituação de território nacional como sendo formado por três regiões: Sierra, Costa e Selva. A ocorrência de recursos naturais se dá principalmente na Sierra e na Selva, o que influencia sobremaneira o papel dessas regiões no país. Este artigo aborda, via análise de discurso, como o ex-presidente peruano García (2006-2011) interpreta esses conflitos e como isto se relaciona com a construção histórica da geografia peruana. Desta análise sobressai-se que, no contexto de negociações sobre a exploração comercial de recursos naturais, adstrições racistas entram em cena. Através da referência a regiões geográficas, diferentes formas de conhecimento são hierarquizadas. Assim, protestos são deslegitimados, e o poder hegemônico de definir a identidade nacional é reforçado. O extrativismo torna-se daí um projeto de integração cultural e territorial sob a bandeira do progresso e do desenvolvimento, bem como um instrumento de reprodução do racismo e da desigualdade.
Referências
ALIMONDA, Héctor. La Naturaleza Colonizada - Ecologia politica y mineria en América Latina. Buenos Aires: CLACSO, 2011.
ANDERSON, Benedict. Imagined Communities - Reflections on the Origin and Spread of Nationalism. New York: Verso; New Left Books, 1996).
ARRUNÁTEGUI, Carolina. El racismo en la prensa escrita peruana: Un estudio de la representación del otro amazónico desde el análisis crítico del discurso. Discurso & Sociedad, v. 4, n. 3. p. 428-470, 2010.
ASHER, Kiran; OJEDA, Diana. Producing nature and making the state: Ordenamiento territorial in the Pacific lowlands of Colombia. Geoforum, 40. p. 292-302, 2009.
BRAIG, Marianne; HUFFSCHMID, Anne. Más allá de Habermas: Lo público como arena y objeto de debate. p. 11-26. In: BRAIG, Marianne; HUGGSCHMID, Anne. Los poderes de lo público: debates, espacios y actores en América Latina. Frankfurt am Main/Madrid: Vervuert, 2009.
BEBBINGTON, Anthony. Mineria Moviemientos Sociales Y Respuestas Campesinas: una ecologia politica de transformaciones territoriales. Lima: Instituto de Estudios Peruanos, 2007.
CEPAL. Informe Macroeconómico Perú. Lima, 2012.
DE ECHAVE, José C.; HOETMER, Raphael; PALÁCIOS PANÉZ, Mario. Mineria y Territorio en el Perú. Lima: UNMSM, 2009.
DEFENSORÍA DEL PUEBLO. Reportes de Mensuales de Conflictos Sociales. Disponível em: <http://www.defensoria.gob.pe/temas.php?des=3#r>. Acesso em: 12 jun. 2014
DIETZ, Kristina. Sozial-ökologische Ungleichheiten. Zum Verhältnis von Gesellschaft, Natur und Demokratie in Lateinamerika. In: H.-J. B. Ingrid Wehr: Soziale Ungleichheiten in Lateinamerika. Neue Perspektiven auf Wirtschaft, Politik und Umwelt. Baden-Baden: Nomos, 2011. p. 107-136
ESCOBAR, Arturo. Worlds and Knowledges otherwise. Cultural Studies. v. 21, n. 2-3. p. 179-210, 2007.
______. Territories of Difference. Durham & London: Duke University Press, 2008.
FOUCAULT, Michel. Der Wille zum Wissen. Sexualität und Wahrheit 1. Frankfurt am Main: Suhrkamp, 1983.
b
PÉREZ, Alan. El síndrome del perro del hortelano. El Comercio, 28 Out. p. 4, 2007a.
______. Receta para acabar con el perro del hortelano. El Comercio, 25 Nov. 2007b.
______. El perro del hortelano contra el pobre. El Comercio, 2 Mar. p. 4, 2008.
______. Estas personas no son ciudadanos de primera clase.... Disponível em: <https://www.youtube.com/watch?v=yjzxl1lBswc>. Acesso em: 14 jun. 2009.
GREENE, Shane. Entre lo Indio, lo negro y lo Incaico: La Jerarquia Espacial de la Differencia en el Perú Multicultural. Tabula Rasa. V. 13. p. 111-146, 2010.
GRILLO, Maria Teresa; SHARON, Tucker. Peru´s Amazonian Imaginary. In: ALEX, Latta; HANNAH, Wittman (Orgs.): Environment and Citizenship in Latin America: Natures, Subjects and Struggles. New York: Berghahn Books, 2012. p .112-126.
JÄGER, Siegfried. Kritische Diskursanalyse. Eine Einführung. 6. Vollständig überarbeitete Auflage. Münster: Unrast, 2012.
LINDNER, Keith; STERSON, George. For Opacity: Nature, Difference and Indigeneity in Amazonia. Canadian Journal of Cultural Studies. (TOPIA), p. 41-61, 2009.
MÉNDEZ, Cecilia G. De indio a serrano: nociones de raza y geografiá en el Perú. Historica, v. 35, p. 53-102, 2001.
MESCLIER, Evelyne. De la Complementariedad a la Voluntad de - "Aplanar los Andes" : Representaciones de la Naturaleza y Pensamiento Económicoy Politico en el Perú del Siglo XX. Bulletin d l´institut francais d´etudes andines, ano 30, v. 3, p. 541-562, 2001.
MICHEL, Boris. Für eine poststrukturalistische Perspektive auf das Machen und die Macht von Karten. Replik auf Ball und Petsimeris. Forum Qualitative Sozialforschung, ano 11, v. 3, 2010.
MOECKLI, Jane; BRAUN, Bruce. Gendered natures: feminism, politics and social nature. In: CASTREE, Noel; BRAUN, Bruce. Social Nature: Theory, Practice, Politics. Oxford: Basil Blackwell, 2001. p. 112-132
NOGUÉS, Joan. Nacionalismo y territorio. Lleida: Editorial Milenio, 1998.
ORLOVE, Ben S. Putting race in its Place: Order in Colonial and Postcolonial Peruvian Geography. Social Research. v. 60, p. 301-336, 1993.
PAZ SOLDÁN, Mateo. Geografia del Peru. Band 1. Paris: Impresores del Instituto de Francia, 1862.
______. Mapa general del Peru. Paris: Libreria de Augusto Durand, 1865.
PERREAULT, Tom. Nature and Nation: Hydrocarbons, Governance, and the Territorial logics of Resource Nationalism in Bolivia. In: BEBBINGTON, Anthony; BURY, Jeffrey. Subterranean Struggles: New Dynamics of Mining, Oil and Gas in Latin America. Austin: University of Texas Press, 2013. p. 38-69,
PERREAULT, Tom; VALDIVIA, Gabriela. Hydrocarbons, popular protest and national imaginaries. Ecuador and Bolivia in comparative context. Geoforum, n. 41. p. 689-699, 2010.
PIZARRO, Ana. Imaginario y Discurso: La Amazonia. Revista de Critica Literaria Latinoamericana, ano 31, v. 61. p. 59-74, 2005.
QUIJADA, Mónica. El paradigm de la homogeneidad. In: QUIJADA, Mónica; BERNAND, Carmen; SCHNEIDER, Arnd. Homogeneidad y nación. Con un estudio de caso: Argentina, siglos XIX y XX. Madrid: CSIC, 2000. p. 15-56
RADCLIFFE, Sarah A.; WESTWOOD, Sallie. Re-Making the Nation: place, politics and identity in Latin America. London: Routledge, 1996.
SHARP, Joanne P. Publishing American identity: popular geopolitics, myth and the Reader's Digest. Political Geography, ano 2, v. 6. p. 491-503, 1993.
SUNDBERG, Juanita. Placing Race in Environmental Justice Research in Latin America. Society & Natural Resources, v. 21. p. 569-582, 2008.
VICH, Victor. El discurso sobre la sierra del Perú: la fantasia del atraso. Critica y Emancipación, v.3, p. 155-168, 2010.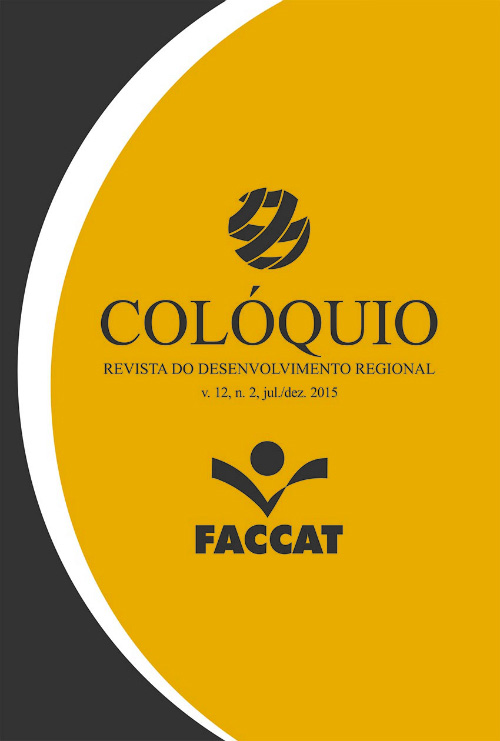 Downloads